To understand the purpose of Black History Month, you need to know more about its founder, Carter G. Woodson.
  Click here to read our blog post.
Hoosier Historymakers You Should Know
Check back weekly throughout February for a new profile.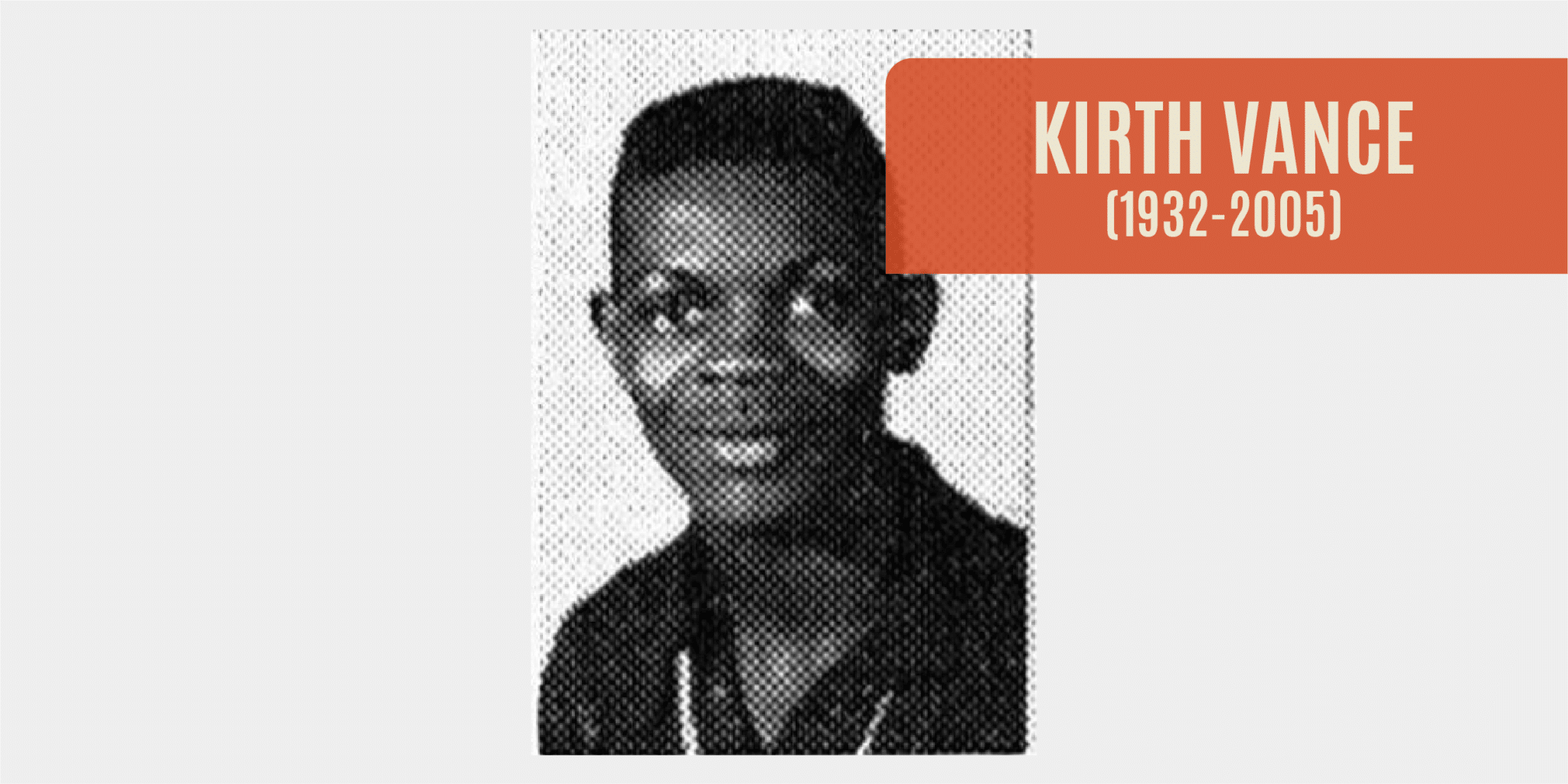 Reverend Kirth Vance Crispus was the child of Reverend Richard William Vance and Geneva Ewing. Kirth would go on to succeed his father as pastor of the Greater Tried Stone Baptist Church, who was sick for a large portion of his time as pastor according to a piece written in the Indianapolis Recorder in 1978.
Born in 1932, he attended Crispus Attucks. As a young man, Kirth was an amateur boxer until his professional debut in 1958 and was often featured in the boxing section of the Indianapolis Recorder. At some point, according to a 1997 article in the Recorder, it is said that Kirth fought Muhammad Ali when he still went by the name Cassius Clay. Although the result of the fight was not recorded on Kirth's behalf, It is likely that Clay was the victor, as Clay had amassed a quick 19-0 record despite his  professional debut coming in 1960, two years after Vance.
Kirth Vance served in the United States Armed Forces from 1953 to 1956 and then as an Indianapolis police officer during the tumultuous 1960s. In 1973, he became a member of Trinity Lodge No. 18. He served as an assistant pastor to his father at the Greater Tried Stone Baptist Church and continued as pastor into the 1990s after his fathers passing in 1986.
Rev. Kirth Vance passed away March 28, 2005 and was buried at Washington Park North Cemetery.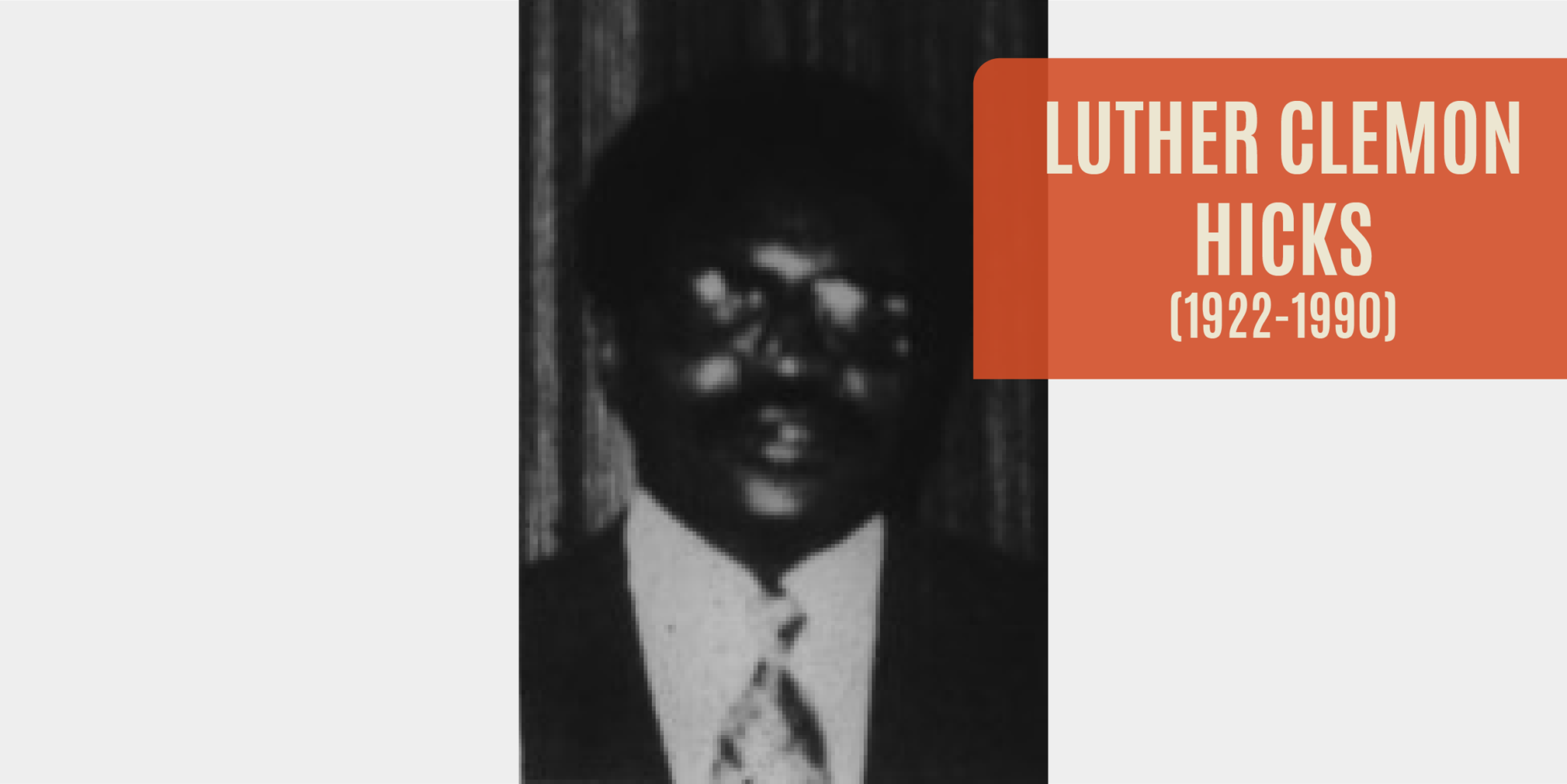 Born on April 27th, 1922 in Richmond, Virginia, Luther Hicks would rise to be one of the most socially prominent Black ministers in Indiana history, especially among the young generations.
Hicks, the youngest son of Reverend and Mrs. Elijah Hicks attended the Hampton institute before he enlisted in the U.S. Coast guard in 1952. He also received his Doctor of Optometry degree from the Chicago college of Optometry and practiced his profession before he felt called to join the Christian ministry. It is said that he employed non-traditional ministerial methods in his own evangelical efforts. It was 1966 that he moved to Indiana to pastor at Riverside Methodist Church.
Reverend Hicks was a simple and effective communicator, which helped him deliver on a promise he'd made for a Methodist inner-city ministry. He opened a store-front headquarters by Shortridge High School near 34th and Meridian streets. There, he founded "dignity unlimited", a youth group for those living in particularly at-risk communities. The goal of the group was to advocate for the issues relevant to black youth at the time and ensure their future employment in order to support themselves and their families.
The local authorities looked upon Hicks with great suspicion and arrested him on at least two occasions during peaceful protests. However, Hicks had only been present in both cases to ensure the activities did NOT escalate to violence. Hicks had only been guilty of walking the most volatile and vulnerable neighborhoods promoting patience and reason. That did not save him from paying fines at the time of his release from prison.
The efforts of those like Hicks are assuredly the reason that Indianapolis remained one of the only American cities where large-scale violence was avoided following the assassination of Dr. King. Although the fear was present considering the city's black population in 1968 was 20% of the total city's numbers, the vast majority of black citizens were- and still are- law-abiding people.
Luther Hicks passed away on July 5, 1990.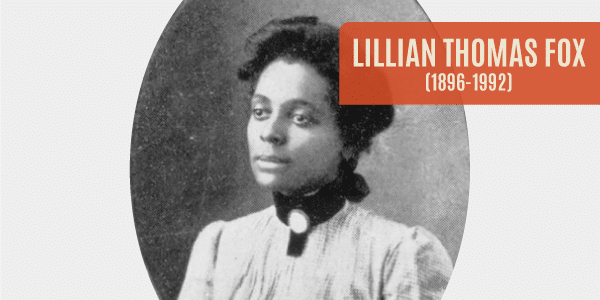 Lillian was born Lillian May Parker to Byrd Parker and Jenneta J. (Jane) Johnson. It is unclear exactly when Lillian was born; it seems as though she was born in 1854 based off of her gravestone. Later, some of the census records state her birth as sometime in the 1860s.  Byrd and Jane were born in North Carolina., At the time of Lillian's birth Byrd was a Methodist Episcopal preacher. Jenneta and Byrd were married in Marion, IN 6th of January 1854. Byrd passed away early in Lillian's life in April 1860 aged only 46. 
By 1870 Lillan was living with her mother at age 15 and working as a HairDresser in Oshkosh, Winnebago, Wisconsin. It is thought that she moved to Indianapolis sometime around 1885 and began writing for the Indianapolis Freeman in 1891.  The early 1890s were a foundational time in Lillian's life. Lillian married James E. Fox in 1893. Abiding by norms of the time for women of higher class, Lillian withdrew from her career post-marriage. She briefly stopped writing for newspapers and shifted her attention to her community work including the Indianapolis Anti-Lynching League and the National Afro-American Council. Within that year, Lillian's life changed dramatically as her mother and brother both died of Tuberculosis. These losses inspired her to create change. She founded the Indianapolis Women's Improvement Club in 1903 which would become a force for change for African Americans with TB. This work was done in association with Beulah Wright Porter, a Black female physician in Indianapolis.
Lillian's break from writing was brief. By 1899 she was the first Black woman writing for the predominantly white and male Indianapolis News, and the first African-American writer to write for any white newspaper in the state of Indiana. Her column was "News of the Colored Folk". She wrote this column for almost twenty years, acting as a megaphone for her community before health forced her to retire. 
A senior archivist at the Indiana Historical Society Wilma L. Moore called Lillian "a true leader with grit". This grit is well demonstrated in a 1896 experience she had while traveling through the south. She was attending a conference in Atlanta where the train company prohibited her from "riding in the ladies coach". Lillian refused to move and was physically removed from the train. Fellow passengers protested and she was allowed to re-board the train. Lillian refused to accept the train company's mistreatment and filed a lawsuit against the train company. Unfortunately the outcome of that lawsuit is unknown, but the story tells us a lot about her strength.
Lillian passed away on the 29th of August 1917 and is buried in Crown Hill Cemetery in Indianapolis. Lillian was well known amongst her community but like many of the women of her generation, her story could have faded into obscurity if it had not been for interest of local newspaper columnists and students. There have been a number of articles and even a dissertation published about Fox's life. There is certainly still more to be uncovered about the amazing life of Lillian.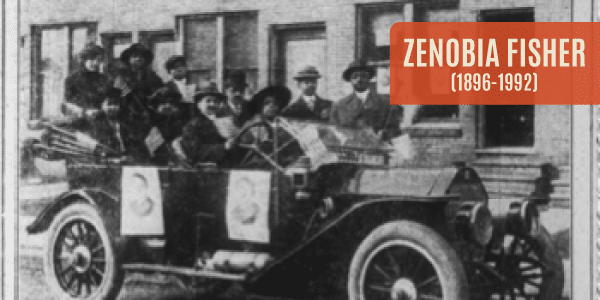 Zenobia Fisher was born on the 10th of August 1896 in Denver, Colorado to William Byrd Fisher and Lillian B. Sweeney, William is from West Virginia and Lillian from Indiana. In 1900 Zenobia can be found listed as "Sinobia" living with her father William and mother Lillian in Indianapolis at 828 Walnut Street, her father was working as a Cook and Steward. Zenobia's first name appears to be Mary based on the 1910 census where she's listed as "Mary Z." but she mostly seems to have gone by her middle name Zenobia. Zenobia's mother is still listed as married in 1910 but her father is missing. By 1910, the family had purchased their home at 2331 Ogden Court in Indianapolis and Lillian was bringing in money working as a dressmaker. 
Mary Z. Fisher married Ray W. Fisher on the 29th of November 1917 at St. John's Church in Indianapolis by Rev. Father Gavisk., At the time of their marriage, Zenobia was working as a private secretary to Freeman Briley Ransom (legal counsel to Madam C.J. Walker). In 1920 Zenobia and Ray were living together in Indianapolis, Ray was originally from Michigan and was working as a Chauffeur. On his registration card for the First World War Ray listed his race as "Ethiopian". Ray's parents' birthplaces were listed as Indiana and Michigan, this makes Ray's notation really interesting as it suggests that there may have been cultural retentions allowing Ray to know where specifically in Africa his family was from. 
Zenobia filed for divorce from Ray on the 26th of March 1926 in Marion County, IN. After their divorce Zenobia continued to work in public service, as she had before their marriage. By 1930, she was employed as a County Clerk living in the city of Indianapolis as a lodger living on California Street. By 1940 Zenobia had trained and was working as a stenographer for the State Office and living at 813 Camp Street in Indianapolis with her mother Lillian, who had remarried by this time. 
Zenobia was a public servant in every area of her life. Outside of her public service at work, she was also consistently advocating in her daily life. For decades Zenobia can be seen throughout the newspapers fighting for community needs. In her early years, as early as 1916, Zenobia served on the executive staff of the Indiana Association of Colored Men (as pictured above). She frequently wrote letters to the newspaper calling out mistreatment of Black Indianapolis citizens. Some examples of this are protesting use of race requirements on job applications in 1950, the difference in city funded protection for Black and White neighborhoods (she was very concerned about the risk women were under of assault and abuse) in 1947, lack of suitable bus services to Black neighborhoods in 1949, lack of suitable public services like street cleaning in 1948 and calling out the Greyhound bus company for their attempts to buy up her home at 1310 West 35th Street in 1969. A battle close to her heart, she fought with the city in 1960 over ensuring there were Stop and Wait signs at St Clair and West Streets to protect the citizens of the area.
Zenobia died living at the Alpha Home in Indianapolis on the 28th of September 1992. She was interred at Holy Cross Cemetery. At the time of her death aged 96 she was still employed as a Secretary for the United Way of Greater Indianapolis.
Visit our Welcome Center, Thursday through Sunday, 10 a.m. – 5 p.m.
to view the social justice mural by members of our community
and visual artist/muralist Isreal Solomon.
In Makesmith Workshop, participate in designing your piece
in our "social justice" quilt.
Race and Religion in the Heartland:

AFRICAN AMERICANS IN CENTRAL INDIANA, 1870-1930
Earlier this month, Conner Prairie had the pleasure of welcoming Mr. David Heighway, Hamilton County Historian, and Dr. Joseph Tucker Edmonds, Assistant Professor of History, Religion, and Africana Studies at IUPUI, for an enlightening discussion about Black History in Hamilton County and Indianapolis in the late 19th and early 20th centuries.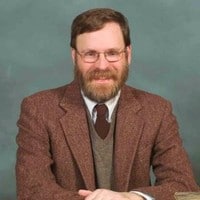 Heighway is Hamilton County Historian.  He is a native Hoosier and received his undergraduate degree in history from Western Kentucky University and his Masters in History from Utah State University.  He has worked at museums around the US, including places such as Utah and Pennsylvania, as well as museums in Indiana, such as Conner Prairie.  He is presently an employee of the Hamilton East Public Library, sits on the Noblesville Historic Preservation Commission, and is on the board of directors of the Hamilton County Historical Society.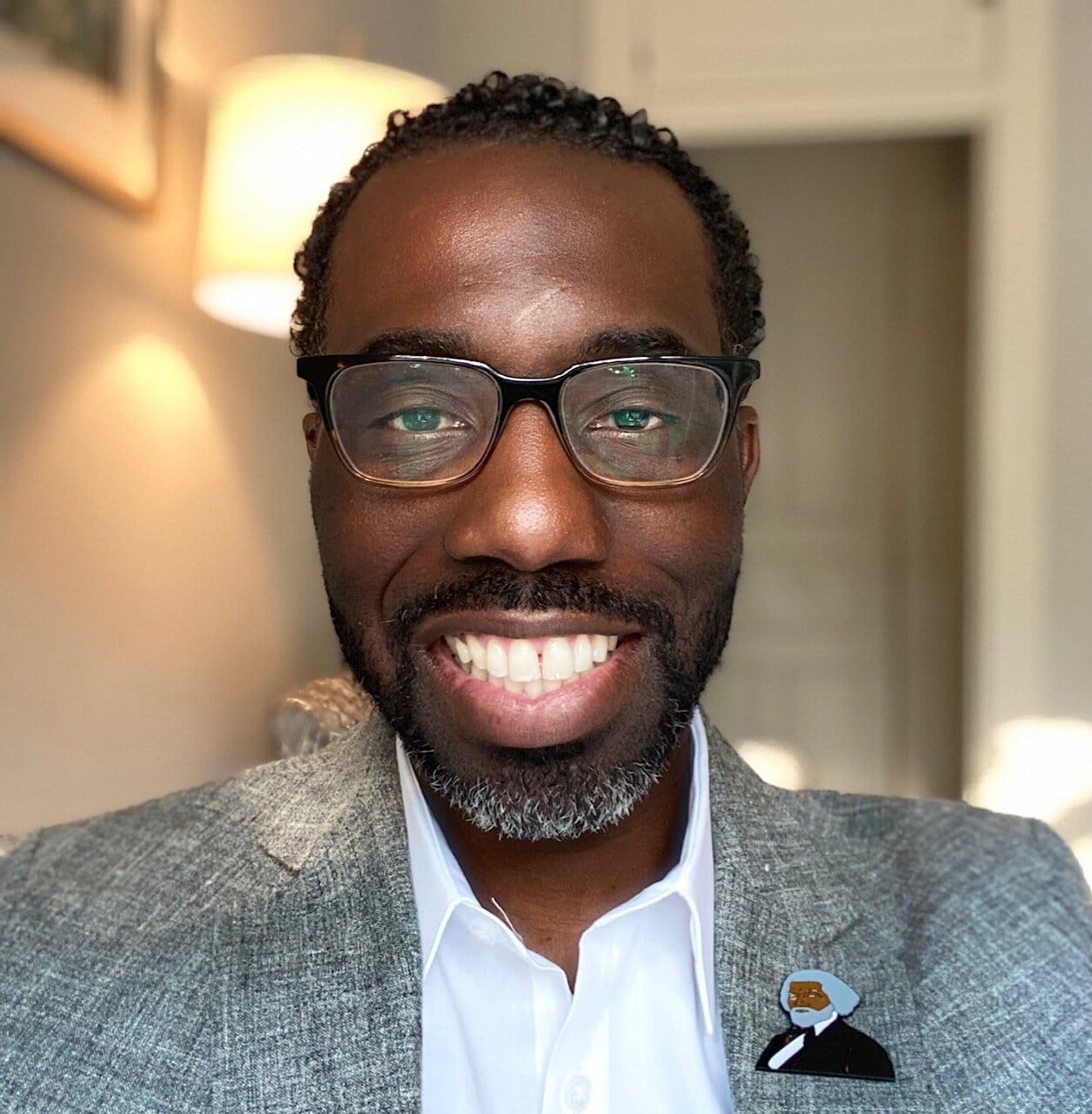 About Joseph L. Tucker Edmonds
Tucker Edmonds is an Associate Professor of Africana Studies and Religious Studies at Indiana University's School of Liberal Arts (IUPUI)and the Associate Director of the Center for the Study of Religion and American Culture (CSRAAC). He earned his Bachelor of Arts in Religious Studies from Brown University, his Master of Divinity from Union Theological Seminary in New York City, and his PhD in Religious Studies from Duke University. His research interests are Black theologies, alternative Christianities in the Black Atlantic, and the role of scripture in African and African American religious traditions. His book, The Other Black Church: Alternative Christian Movements and the Struggle for Black Freedom, was published in December 2020.