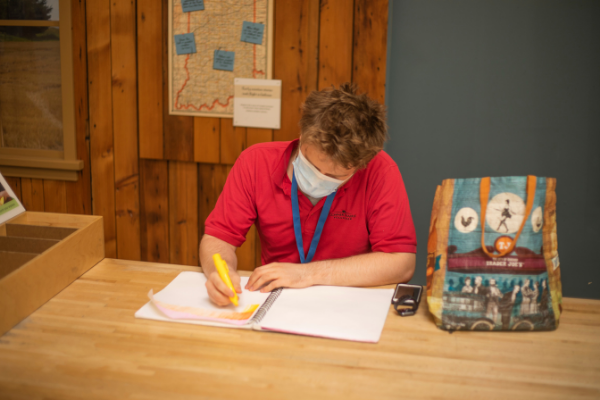 So much of life is made up of everyday, predictable routine. For some it's humdrum. For others, events that happen dependably at the same time every week are a source of peace and comfort. Routine creates a sense of normality and frees us from the anxiety of figuring out how to schedule our work and play. For my son Jimmy, a young adult with autism, routine and repetition is never boring.
Adapting to a New Normal in a Pandemic
When the pandemic began in 2020 the abrupt change to daily routine was an unwelcome shock. Cancelled work, closed gym, library, restaurants, etc meant spending most of our time at home longing for the return of normal. Figuring out how to spend the days was a big challenge at first, for all of us.  The situation was definitely beyond our everyday experience. And yet, without sugar coating an experience that was so difficult for millions, the pandemic moved my family beyond the everyday into the unknown. Eventually, we all adapted. In retrospect, in some ways it's been good.  Jimmy is an artist and he's had more time to collaborate, learn new techniques, styles and media. He has continued to work prolifically and has produced more than 140 new pieces.  Jimmy is a man of few words, and he doesn't talk about the meaning of his work. Thus, in the best tradition of postmodernism, the viewer is entirely free to find their own meaning in the art. For Jimmy, the process of making of art is ritual and routine and once he learns to make something, he likes to keep it going. A lot of Jimmy's artwork starts in the same way with a markers and paper "routine". Other artists follow a different approach.  Another young woman with disability from my community started taking virtual art lessons during the pandemic due to the sudden break in routine. She quickly learned from scratch how to produce sophisticated images. I feel proud of the way my son and my friends with disabilities have risen to the challenge of sudden unexpected change and adapted. They are some of the toughest and most resilient people I know.
Using Art to Convey Change
I accepted Conner Prairie's invitation to write this blog article with some trepidation because I've never been a creative writer. Drawing inspiration from Jimmy's adaptability and his art, I'll take my own risk and step beyond my everyday experiences into the unknown by writing a brief critique of a sample of Jimmy's recent work. I might not be a writer but at least I like my topic.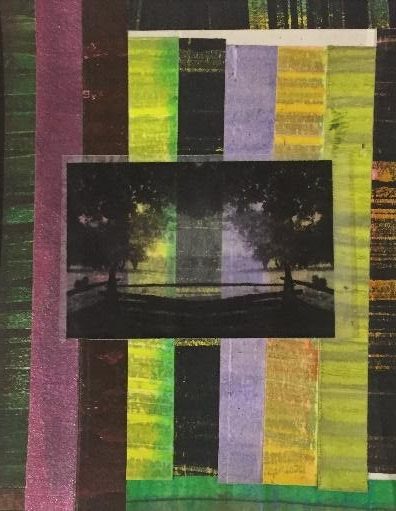 For me, these three pictures say something about the way even simple small change can move us in different directions – beyond the everyday. They are all mixed media collage measuring 4 by 6 inches. The focal point in each is a mirrored photo of a tree and split post zigzag fence, one of many trademark images of Conner Prairie in summer. The photo is printed onto tracing paper allowing the colors from the background to show through. My eyes gravitate to the space between the trees. I think the mirror image and colors showing through the black and white photo creates a surreal impression of an everyday view. I imagine a historic scene of an old-time farmer looking with satisfaction at his field from the cool shade of the treed path. The farmer might be thinking about the livestock he can raise, the family he can feed and the future he can create for them all on his land. At other times, the mirrored images take me to a fantastical alternate universe of perfect symmetry and heightened color. Reality taken a step further. What would it feel like to walk across from one side of the mirror to the other? The bright colors and contrasts in the pieced together background bring me back to reality. To my eyes they resemble an old timber floor, or a weathered wall of a log cabin, the variety of colors and patterns reflecting the different textures and colors in worn old wood, nothing going to waste.
Weather, sickness, or conflict can thrust big change upon us. Life can throw us back onto our own resources and change our most treasured routines. Sometimes we are disappointed and heartbroken and sometimes our hopes and dreams grow when we occasionally step beyond the everyday.
---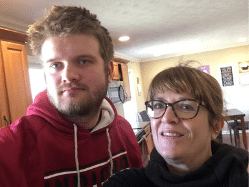 About the Author
Wendy Kiefel is the mother of Jimmy Kiefel, an artist and young adult with autism. A lot of Jimmy's art incorporates images he photographs at Conner Prairie