Baked Brie with Tomato Preserves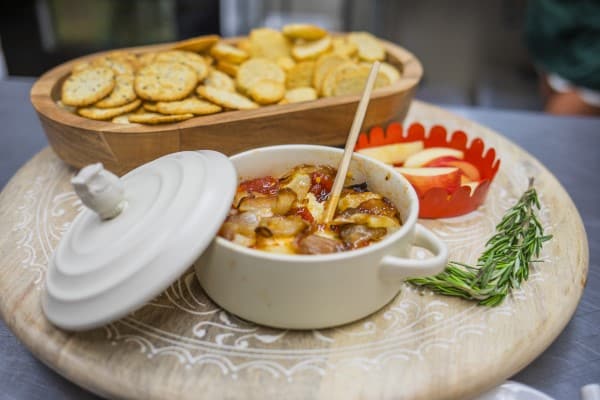 Baked Brie with Tomato Preserves
What you'll need:
1 small onion cut into wedges
2 TSP butter
1/3 cup Tomato Preserves
1/2 TSP snipped fresh rosemary or 1/4 TSP dried
1/8 TSP crushed red pepper
8oz round of brie cheese (about 4″ diameter)
Assorted apples, crackers, crostini and or fresh bread slices
Instructions
Caramelize onions in a small saucepan by cooking onion in hot butter, covered over low heat about 15 minutes or until tender and golden, stir occasionally.
In a small bowl stir together rosemary, tomato jam and red pepper.
Cut off and discard a very thin slice from the top of the brie to remove rind.
Place the round of brie in an ungreased 9″ pie plate. Top with tomato mixture, then caramelized onions.
Bake uncovered, about 15-20 minutes until brie is softened and warm, but not runny.
Serve with Apple Store apples, crackers or bread.