Audience Favorite Frankie Moreno Makes Conner Prairie Symphony Bowl Debut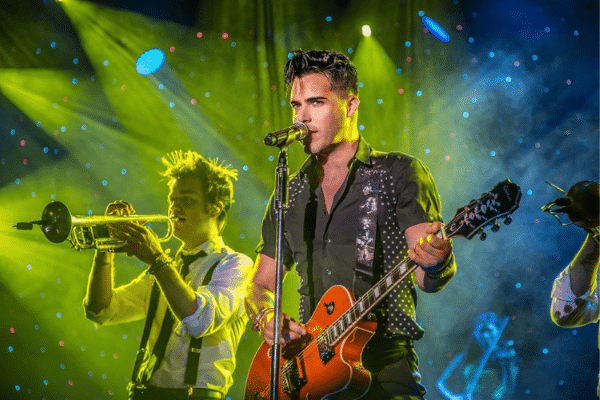 Newly added show rounds out the 2021 season.
(INDIANAPOLIS, IND – June 14, 2021) – Tickets are currently on sale for "Frankie Moreno: All the Hits," the newest addition to the Kroger Symphony on the Prairie line up. The popular host of the 2019 IPL Yuletide Celebration is set for August 14 at the Conner Prairie Symphony Bowl.
With 14 Top-Ten albums (5 No. 1's), 50 Top-Ten singles (45 No. 1's), an Emmy nomination, and being named Las Vegas "Headliner of the Year" 5 times, Frankie Moreno is consistently breaking records and wowing audiences from coast to coast with his own brand of genre-blurring Rock n' Roll.
As a child prodigy on the piano and a gifted multi-instrumentalist, Moreno was first introduced to American audiences at the age of 10 on CBS's Star Search. He has continued to perform sold-out concerts including Carnegie Hall, The Kennedy Center, The Hollywood Bowl, and Vegas residencies and has collaborated with world-renowned artists like Joshua Bell, Placedo Domingo, Allison Krauss, and Chick Corea.
Gates open at 6 p.m. and the concerts begin at 8 p.m. each evening.
Visit the ISO's Symphony on the Prairie website for available reserved seating. For more information on any Indianapolis Symphony Orchestra indoor or outdoor presentations, contact the Hilbert Circle Theatre Box Office at (317) 639-4300 or online at IndianapolisSymphony.org.
Special thanks to our generous partners at Kroger for their continued support of Symphony on the Prairie. The ISO is also grateful for the continued support of Huntington Bank as the Presenting Sponsor of the Sunset Lounge.
About the Indianapolis Symphony Orchestra
Since its founding in 1930, the ISO has presented a range of classical, pops, family and holiday programming to hundreds of thousands of people each year. The ISO continues to engage new audiences through innovative programming including the DeHaan Classical Series, the Printing Partners Pops Series, the holiday traditions of AES Indiana Yuletide Celebration, the Stella Artois Happy Hour at the Symphony Series, and the popular Bank of America Film Series. Support from individuals, corporations, and foundations is vital in helping our orchestra fulfill its mission. For more information, visit www.IndianapolisSymphonyOrchestra.org.
About Conner Prairie
Conner Prairie is the destination for living history, inviting guests to step into the story and actively experience the connection between today and yesterday. With more than 1,000 wooded acres on the White River, Conner Prairie offers education and adventure to more than 400,000 visitors of all ages each year. As Indiana's first Smithsonian Institute affiliate museum, Conner Prairie provides both outdoor interpretive encounters and indoor experiential learning spaces, melding history and art with science, technology, engineering and math. A 501(c)3, nonprofit organization, Conner Prairie is accredited by the American Alliance of Museums, and relies on grants and philanthropic donations from individuals, corporations, and foundations to fuel its sustainability and growth. For more information, visit ConnerPrairie.org.