At Conner Prairie, we are passionate about agriculture and determined to keep the history of our land and historic breeds alive by showcasing how they contribute to our community, state, nation and the world. Follow us as we capture the journey and history of agriculture at Conner Prairie, from the Lenape tribe and William Conner to Eli Lilly and who we are today.
Conner Prairie Land History: 1800's - TODAY
1837
William Conner moves to Noblesville.
Did You Know the "prairie" where Conner Prairie is located is not a prairie? It was a floodplain which would flood each year. This prevented things like large trees from growing. This made it valuable land for growing crops because it did not have to be cleared at a time when most of the state was covered in thick forests.
1855
The Conner Prairie property was first given to William Conner's son, William H. Conner, after his death. 
1874
The land is sold to John D. Evans, ending the Conner family's ownership of the land.
1902
There are four subsequent land owners who largely turn the farmland over to tenant farmers. One of these families is the Atkins family, who built what would later become Shen Ho Shi. 
1934
Recognizing the historical value and educational potential of the land, as well as it's value as farmland, Eli Lilly II purchases the land. He settled and began operation as a show farm, featuring award-winning, purebred livestock.
Did You Know? A show farm is a livestock farm for purebred animals that compete in agricultural shows, like the ones that still happen today at county and state fairs. They are animals that are the best representatives of their breed in terms of body shape and other features.
1935
Lilly purchases the Owens Farm across the White River. Upon purchase, this dairy farm became part of Conner Prairie Farms. Landing holdings after that purchase included 800 acres.
1940's
1941-1942 was a turning point, with a shift from show farm to an attempt at profits. During the war, people on the homefront were encouraged to be frugal have a mindset focused on productivity and conservation of resources. Many families planted victory gardens and began to grow their own food. This led Lilly to begin to feel that his show farm was, in his words, "unpatriotic" because it was using up resources for something frivolous. 
During WW2, with farm manager Tillman Bubenzer taking the lead, Lilly shifted his focus to farming cross-bred cattle and hogs. By cross-breeding animals, you get animals that are hardier (more resistant to disease and heat or cold) and more productive (produce more milk or meat in less time and with less feed). 
In addition, if the farm continued to cost money rather than turn a profit or break even, it would fall into the "hobby farm" category and be taxed at a much higher rate.
A greater emphasis on growing crops for animal feed also occurred during this time.
1963-1964
Lilly makes a "sudden" (according to Bubenzer) decision to get out of the farming business.
Conner Prairie Farms, including the Conner House and associated buildings acquired by Lilly is turned over to Earlham. Conner Prairie Farms continues to operate as a working farm with Bubenzer at the helm at this time.
1974
Conner Prairie Pioneer Village opens to the public. At the opening, there were six buildings. Dr. Campbell's Home opened in the following year.
1984
A village named "Prairietown" opens featuring The Golden Eagle Inn.
An Opportunity to See Indiana Farm Animals First Hand
Visit Animal Encounters and get up close and interact with your favorite Indiana farm animals! Learn about animal husbandry, life cycles, and silly and surprising animal behaviors. Speak one-on-one with the specialists who care for animals year-round on our grounds. Make sure you ask about our rare historical breeds of livestock and the important role Conner Prairie plays in preserving these animals.
Come celebrate Heritage Breeds Week with us! Participate in exciting activities, watch fascinating demonstrations, learn about Conner Prairie's efforts to preserve heritage breeds, and discover what makes these rare animals so special.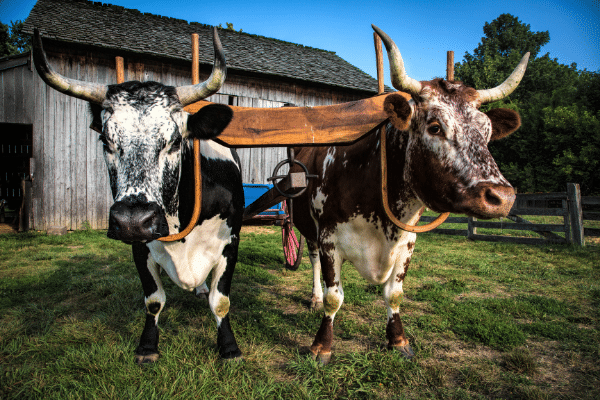 Meet and Greet with animals all across the grounds. Learn about how livestock has changed throughout the years and how the livestock of the past are important for us today!
Learn about Indiana's Historical Heritage Livestock
Arapawa Goats
Arapawa Island, off the coast of New Zealand, is home to this unique breed, which descended from goats introduced by English explorers in the 1700s.  Because they were left untouched for two hundred years, this heritage breed represents the style of goat originally brought to the U.S. by early English settlers. Today, there are roughly only 600 Arapawa Goats worldwide, making Conner Prairie's conservation efforts with this rare breed even more important! 
English Longhorns
Developed in Northern England, English Longhorns were improved by Robert Bakewell, a revolutionary in the world of breed improvement, in the 1700s. While English Longhorn cattle were common during the time America was being settled, this breed eventually became rare worldwide, reaching extinction in North America until the 1990s.  Even now, there are still fewer than 100 English Longhorns in the United States, and Conner Prairie is working hard to increase the population. .
Tunis Sheep
One of the first true American breeds, Tunis sheep were kept by some of the original founding fathers, including John Adams and Thomas Jefferson. After nearly going extinct during the Civil War, Tunis sheep spread throughout the country and have steadily gained popularity because of their ability to thrive on pasture and in hotter climates.
Ossabaw Hogs
Ossabaw Island hogs descend from hogs brought by the Spanish in the 1500s to Ossabaw Island off the coast of Georgia, where they were left feral for hundreds of years. Adapted to the harsh life on the island, Ossabaws have the ability to store large amounts of fat that they can use for energy during times of famine. This substantial amount of lard gives their meat a very unique flavor, making them popular with chefs.
American Rabbits
Recognized as a heritage breed in 1917, these white and blue American Rabbits can weigh anywhere between 9-12 lbs. Because they have such large ears, remember to keep the noise level down, so as not to startle them. The rabbits will be in the Conner Barn pasture for viewing when they are not in the Animal Encounters experience. Rabbits need lots of breaks so feel free to come back and try again some other time if they are not in the barn!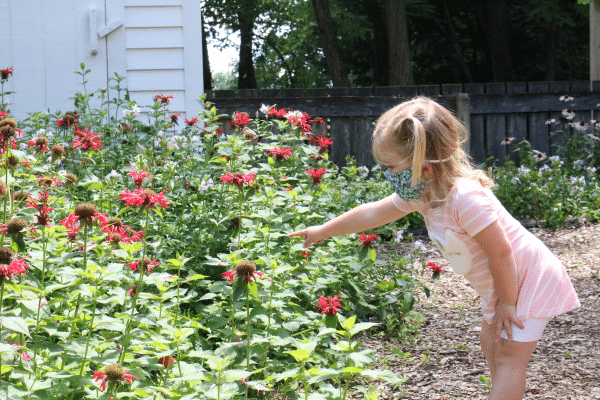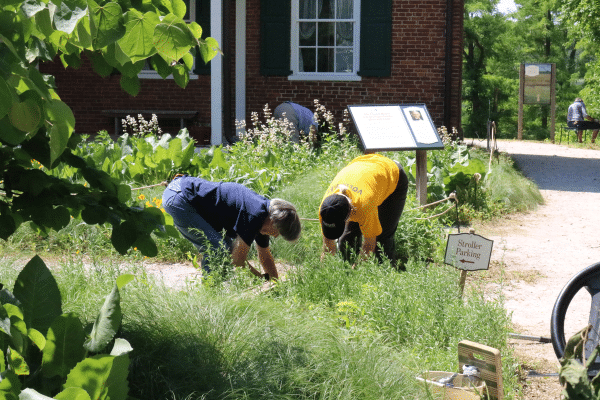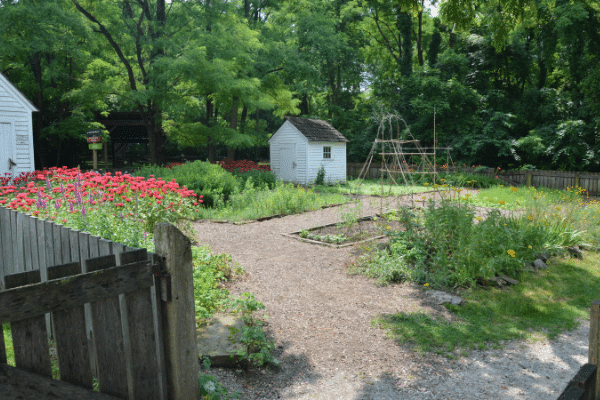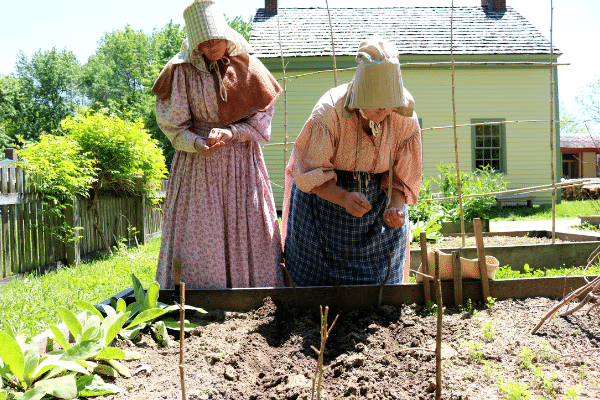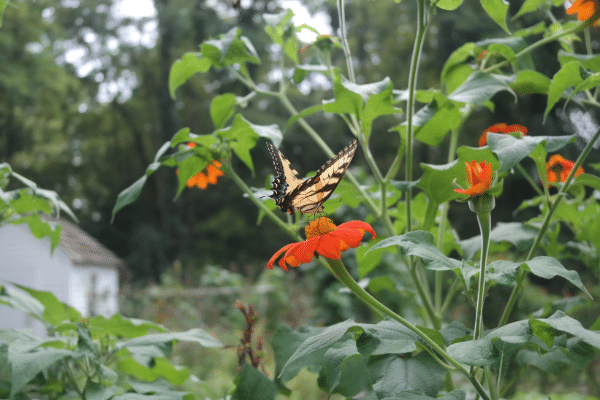 Our Domestic Trades Experts have over 30 years of gardening experience. Conner Prairie features nine unique gardens across our grounds, including outside the Golden Eagle Inn, the Gregory home, the Campbell home and the Curtis home in Prairietown. You'll also find gardens in the Civil War Journey area, in our Lenape area, around the Loom House and the Conner House. The gardens are designed to show the time period and peoples we represent in each space.
As much as possible, we use the original, heirloom varieties of seeds that would have been available at the time. Where those seeds are not available, we find seeds that match that description as closely as possible as we continue the search for the original heirloom varieties.
Supported by Corteva Agriscience, 2021 became the inaugural year for Conner Prairie's sunflower field.
Now in 2023, five varieties of native sunflowers were planted that totaled approximately 111,000 seeds. Wrapping around the oxbow of the White River, guests were immersed amongst thousands of sunflowers that made for a picture-perfect summer event as well as countless photo opportunities.
Through sustainable agricultural practices, the sunflower field offered opportunities to provide conversations about the historical importance these sun-drenched flowers offer to the environment and native habitats.
Fun Facts about pollinators:
About 75% of all flowering plants rely on animal pollinators and over 200,000 species of animals act as pollinators.
Worldwide, approximately 1,000 plants grown for food, beverages, fibers, spices, and medicines need to be pollinated by animals in order to produce the goods that we rely on.
Foods and beverages produced with the help of pollinators include blueberries, chocolate, coffee, melons, peaches, pumpkins, vanilla, and almonds.
Learn more facts about sunflowers!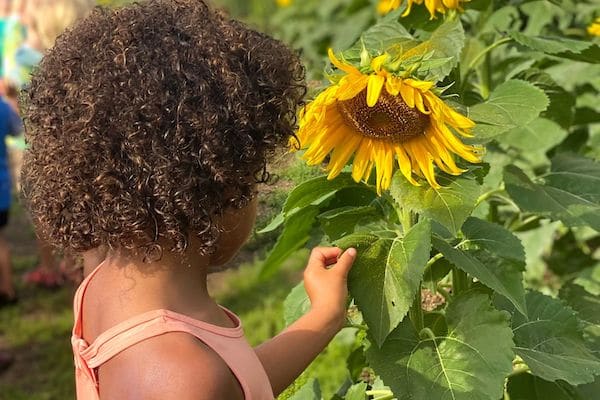 Watch these videos to learn more about gardening at Conner Prairie.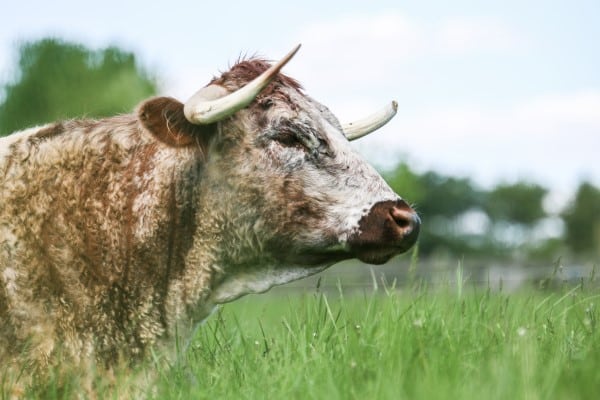 November 4
Come learn all about oxen! Whether you'd like to train oxen of your own or you just want to learn more about these impressive animals, this class is for you! Join Conner Prairie's agriculture staff to learn about the history, selection, training, and care of these magnificent draft animals. Afterward, try your hand at driving Conner Prairie's team of heritage breed Randall Lineback oxen with assistance from the Ag Staff.
Have you ever wondered why Conner Prairie has heritage breeds? Rare breeds of livestock and poultry are part of our national and cultural heritage. Sure, we want to exhibit animals that…
READ MORE