A Familiar Face at Conner Prairie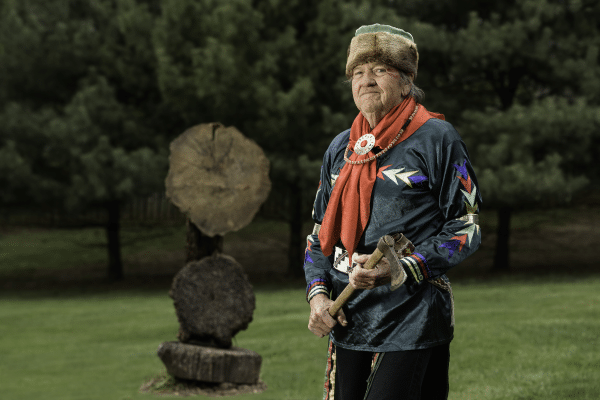 Michael Pace, or Mike Pace as he prefers, has been a bastion of education at Conner Prairie for nearly 30 years. He recently retired from full season work at Conner Prairie this year, and it is clear that our museum will not be the same without his contributions and hard work.
Pace has made many meaningful contributions throughout his life from operating his own dry cleaners for nearly 40 years to educating visitors at Conner Prairie, facilitating the language dictionary and giving interviews to dispel stereotypes.[1] As a former Assistant Chief of the Delaware Tribe of Indians and descendant of Chief Anderson, Pace's vast knowledge and cultural experience made him a perfect fit for Conner Prairie's goal of telling tribal history in collaboration with the Delaware Tribe of Indians.[2] Pace has worked to educate audiences across Indiana including in the city of Anderson and at Conner Prairie. He has even traveled to Germany to share his tribe's history, language, and culture.[3]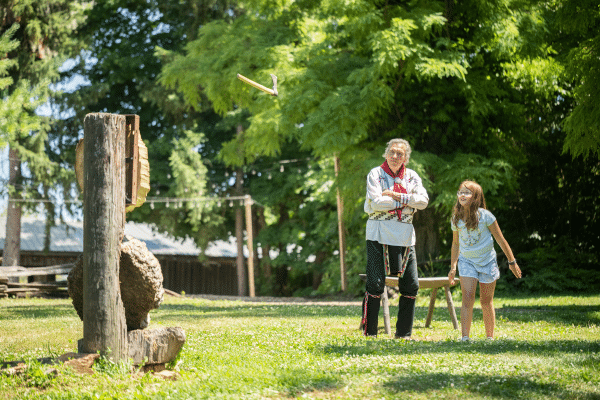 Pace has educated people on Indigenous history at Conner Prairie since 1993. He was one of the integral partners in founding the Lenape Indian Camp which opened in 2000, and started several Indigenous history programs such as Delaware Days and Woodland Indians: Art and Culture.[4] Pace was also an interviewee and provided some of the history featured in the documentary out of Ball State: The Lenape on the Wapahani River (2014).[5] Pace is also well decorated for his work in sharing Indigenous history across Indiana outside of Conner Prairie related projects. He has been awarded an honorary key to the city of Anderson, won a Sagamore of the Wabash, designated as a Lenape culture bearer with the National Museum of the American Indian, and in 2019, the Indiana Native American Council Teacher's grant to study Native American History was named after him.[6] Pace's work both in the United Sates and abroad has spanned decades, and he is not done. Although he has officially retired from full time interpretation at Conner Prairie, he continues his work to share his knowledge and time with members of his community.[7]
For many years, season after season, you could often find Pace in his traditional period dress, throwing tomahawks, beading, or telling stories in the Lenape Indian Camp. Generations of fourth graders have had the opportunity to learn about the Delaware and their history on the White River. He has been an invaluable part of what we do here. Pace appreciated when people visited to speak with him multiple times.[8] That ongoing conversation with guests helped to educate and dispel certain stereotypes while providing opportunities for Pace to share his culture, his language, and his history.[9] This work was important to him but not his only interest.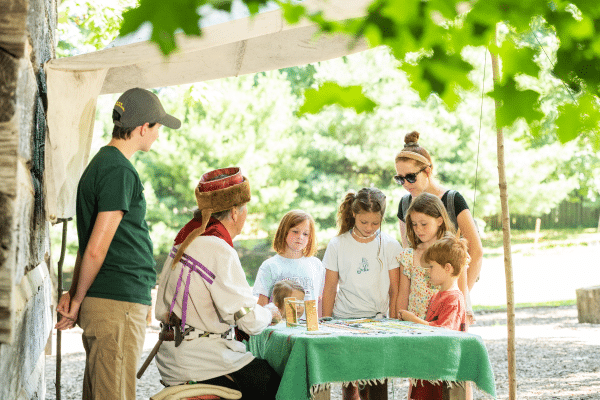 Most folks who have met Pace probably have a good story or two he has shared with them, only interrupted by the occasional sip of his Diet Dr. Pepper. His personal love of history often shone through. Outside of his work to share Native history, Mike's personal interests lay more with military history than the Fur Trade and Indiana in 1816.[10] The Battle of Britain is a particular point of fascination for Pace; a rather infamous aviation battle during the second world war which lasted from the tenth of July to the 31st of October 1940, according the British.[11] German historians tend to lump in the Battle of Britain and the Blitz without dividing the aerial campaigns.[12]
Pace's work highlighting the history, cultures, and languages of all Native tribes has created a permanent impact on Conner Prairie. Although that impact will not be lessened by his departure, we thank Pace for the decades of hard work, dedication, patience, empathy, and knowledge he has given us.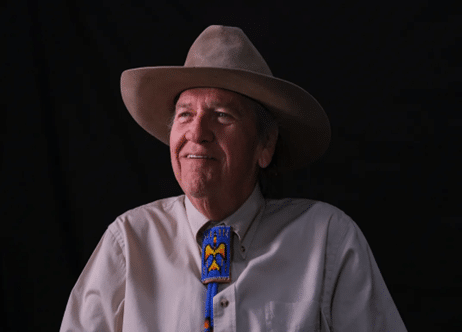 Credit Brian Clopp, photographer, taken in Bartlesville, Oklahoma. [13]
For Further Interest:
Links:
Native American Heritage Month, Indiana's history, and a season of gratitude – Indiana Capital Chronicle
LC-Lenape-Indian-Camp.pdf (connerprairie.org)
https://evanstonnow.com/blogs/tribal-speaker-to-raise-awareness-of-delaware-indians/
https://talk-lenape.org/about-us
Books:
Brown, James W., and Rita T. Kohn. Long journey home: oral histories of contemporary Delaware Indians. Indiana University Press. 2008.
Flook, Chris. Native Americans of East – Central Indiana. Charleston, SC: The History Press. 2016.
References
---
[1] Micheal Pace, Interpreter Specialist at Conner Prairie, Linked In profile, accessed October 8th, 2023, https://www.linkedin.com/in/michael-pace-a7154229
[2] Alysa Landry, "Getting It Right: Lenape Man Changing Indiana's View on Native History", ICT, published August 8th, 2014, updated September 13th, 2018, https://ictnews.org/archive/getting-it-right-lenape-man-changing-indianas-views-on-native-history
[3] Greg, "Mike Pace Goes to Germany", The Delaware Tribe of Indians, Delaware Indian News, September 28th, 2011, https://delawaretribe.org/blog/category/community-old/page/6/
[4] Rita Kohn, "The Lenape come home to Conner Prairie", NUVO.net, October 9th, 2014, https://www.nuvo.net/arts/literary/the-lenape-come-home-to-conner-prairie/article_2aa72b47-c227-5072-bfd5-ed2708541c27.html ;
[5] Kayla J. Eller (Director), The Lenape on the Wapahani River, 2014, Ball State Media, Ball State University, copyright 2014, accessed October 23rd, 2023. http://www.lenapeonthewapahani.org/index.htm ; Roseanne McKee, "Film Explores Delaware Tribe's History in Indiana", Delaware Tribe of Indians, May 24th, 2014, https://delawaretribe.org/blog/2014/05/24/the-lenape-on-the-wapahani-river/
[6] "2019: Native American Hoosiers to be Titleholders", Native American Indian Affairs Commission, IN.gov, copyright 2023, Accessed October 16th, 2023, https://www.in.gov/inaiac/news-releases/ ;
"Mike Pace – Indiana Native American Indian Affairs Commission Teacher Grant", Conner Prairie, copyright 2022, Accessed October 19th, 2023, https://www.connerprairie.org/news/conner-connection/20190508-a/ .
[7] Mike Pace Interview with Ryan Shank, unpublished, video, on grounds at Conner Prairie, 2023.
[8] Mike Pace Interview, 2023.
[9] Mike Pace Interview, 2023.
[10] Mike Pace Interview, 2023.
[11] "Introduction to the Phases of the Battle of Britain", History of the Battle of Britain, Royal Air Force Museum, copyright 2020, accessed October 25th, 2023, https://www.rafmuseum.org.uk/research/online-exhibitions/history-of-the-battle-of-britain/introduction-to-the-phases-of-the-battle-of-britain/ ; Mike Pace Interview, 2023.
[12] "Introduction to the Phases of the Battle of Britain," Royal Air Force Museum.
[13] Brian Copp, Portrait of a Lenape Storyteller, taken March 2020, uploaded November 2020, Photograph, Bartlesville, Oklahoma, 18th Annual Photo Contest, Smithsonian Magazine, category: people, https://photocontest.smithsonianmag.com/photocontest/detail/portrait-of-a-lenape-storyteller/