13 things to do in the fall in Hamilton County Indiana
Our Adventure is Everywhere contains affiliate links and is a member of the Amazon Services LLC Affiliate Program. If you make a purchase using one of their Amazon or other affiliate links, they may receive compensation at no additional cost to you. Read their full privacy policy for more information.
Ready for some fall fun? Check out these 13 things to do in the fall in Hamilton County.
Where is Hamilton County Indiana?
Hamilton County is in the center of Indiana, just north of Indianapolis. It is considered an Indianapolis suburb.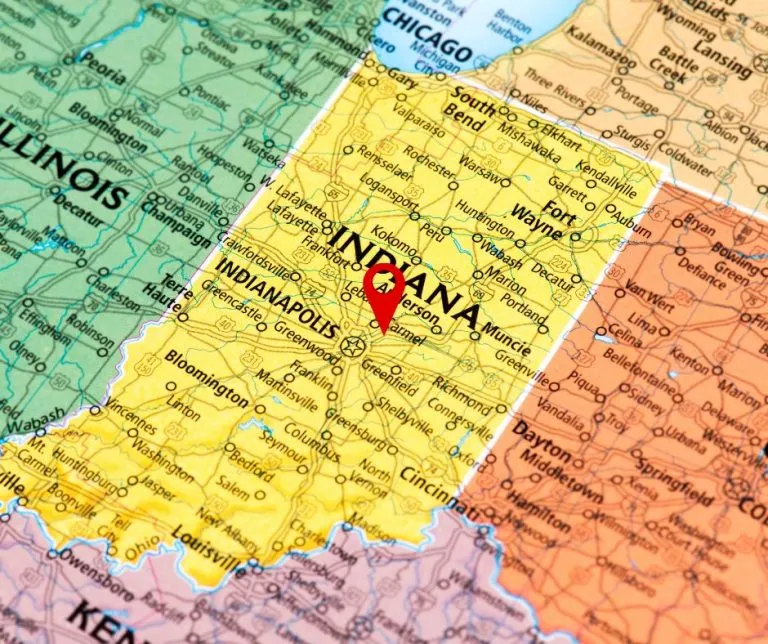 What towns make up Hamilton County Indiana?
Hamilton County consists of Carmel, Fishers, Noblesville, Westfield, Arcadia, Atlanta, Cicero, and Sheridan. The largest towns are Carmel, Westfield, Noblesville, and Fishers which are all considered suburbs of Indianapolis.
Don't count out the smaller towns of Arcadia, Atlanta, Cicero, and Sheridan though – they have some wonderful restaurants and attractions worth exploring!
Top Things to do in the fall in Hamilton County Indiana
Whether you are looking for things to do in the fall in Hamilton County Indiana for a day trip or weekend getaway or you live in one of the cities and are looking for things to do nearby, this extensive list of suggestions should keep you busy all fall!
1. Potters Bridge
For stunning fall foliage, Potters Bridge in Noblesville is the place to be. This little park north of downtown has a wonderful walking/biking trail (paved) through the woods and along the White River. It's a lovely walk any time of the year, but it's especially beautiful in the fall.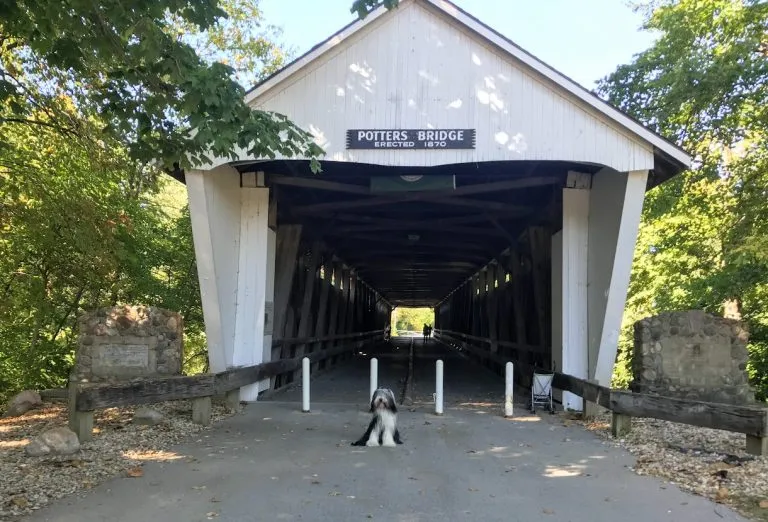 The bridge itself is an old covered bridge that crosses the White River and is closed to motor vehicles. It's a great place for fall pictures or just enjoying a warm fall day! There's even a little playground for kids near the park's entrance.
2. Downtown Noblesville Scarecrows
Downtown Noblesville is one of the best, most revitalized downtowns in Indiana, so it's no surprise that they go all out in the fall. While strolling the streets sipping a decadent Chai Latte from Noble Coffee, check out the scarecrows.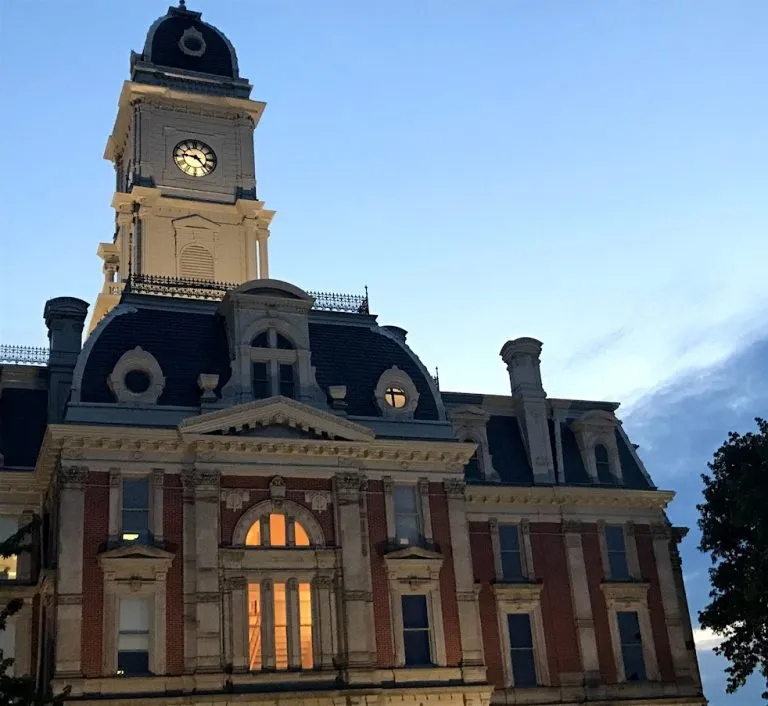 Every year the scarecrows are a little bit different and it's fun to find them all and then decide which one you like best! True to the small-town feel of Noblesville, anyone can enter the scarecrow contest and create their own scarecrow. They go up at the end of September and are on display until October 31st.
3. Nickel Plate Express
If you have someone in your family who is a train aficionado, then visiting the Nickel Plate Express should be high on your list of things to do in the fall in Hamilton county.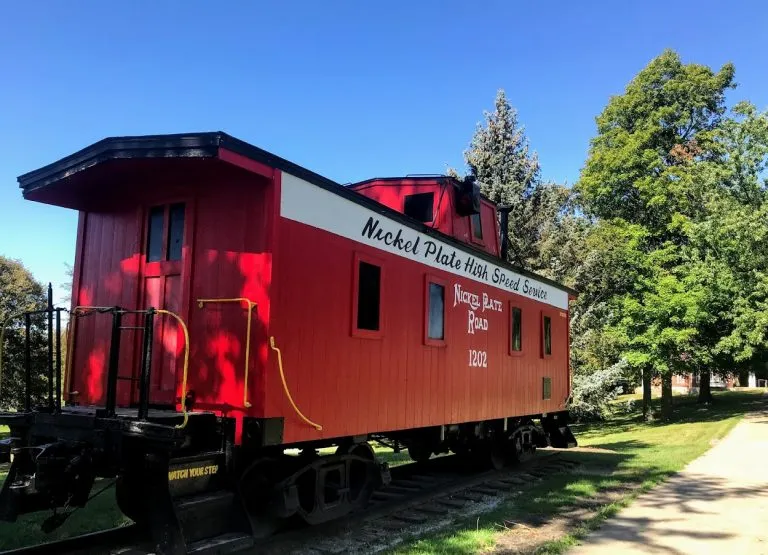 In addition to checking out all the old train cars, all throughout the fall, you can enjoy fall-themed rides every weekend on restored 1950s passenger cars. From fall dinners to haunted rides, there is something for everyone. The trips begin at Forest Park in Noblesville and head north for 65+ minute rides.
4. Russell Farms
Pumpkin patches are synonymous with fall fun, and the best one to visit in Hamilton County is Russell Farms. Located in north Noblesville, Russell Farms is the perfect place to select your family pumpkins while enjoying a full day of fall fun.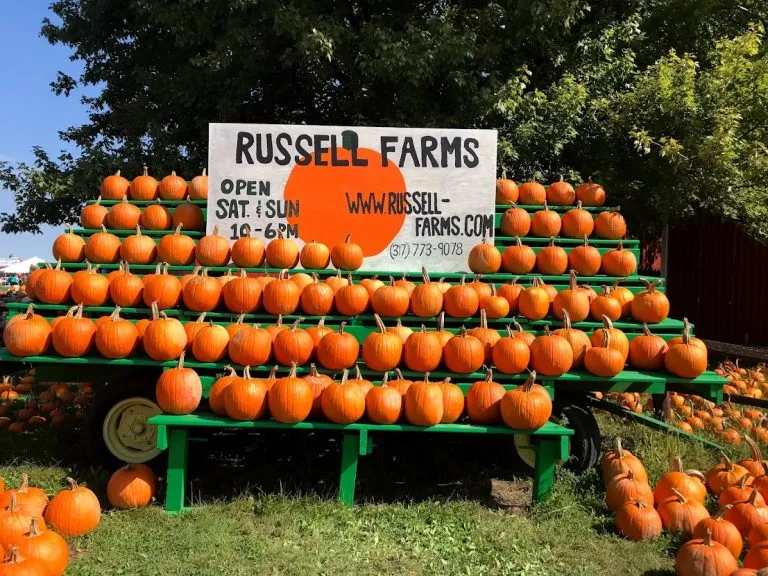 For one admission price you can get lost in the corn mazes, pet animals at the petting zoo, check out the farm exhibits, play on the unique playgrounds, and more. Although it's open to everyone, it's especially geared toward elementary school-aged kids and younger. Lots of fun to be had for that age group!
5. Headless Horseman Festival
My all-time favorite of the many things to do in the fall in Hamilton county Indiana is to spend an evening at Conner Prairie at the Headless Horseman Festival. It's truly one of the best festivals I've been to (in Indiana and beyond). Plus, every year Conner Prairie adds something new and fun so although we have nostalgic favorite activities, it also feels fresh each year.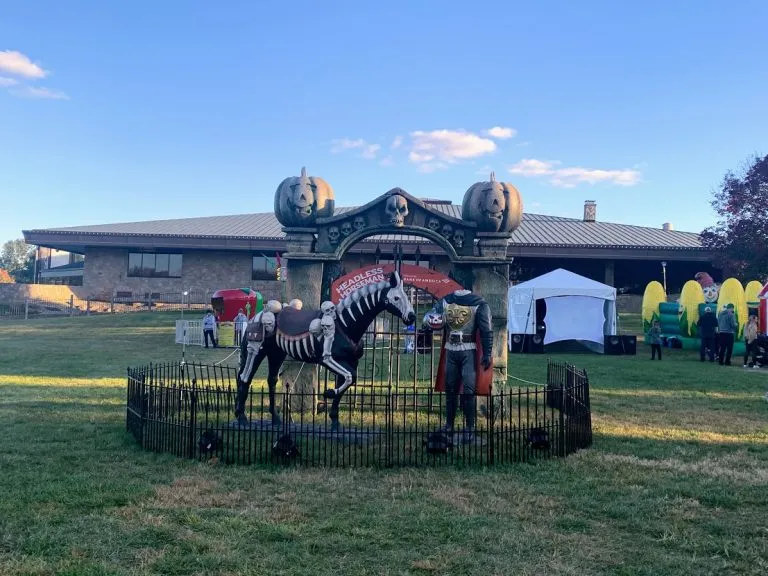 Of course, a hayride where you *might* encounter the headless horseman is a must, and the wagons run from early in the evening until late so you can decide how scary you want your experience to be!
The puppet show by Stevens Puppets is always a hoot. Dan, the puppeteer, knows his audience well and does a great job playing to the crowd. The little ones especially love his hijinks and jokes.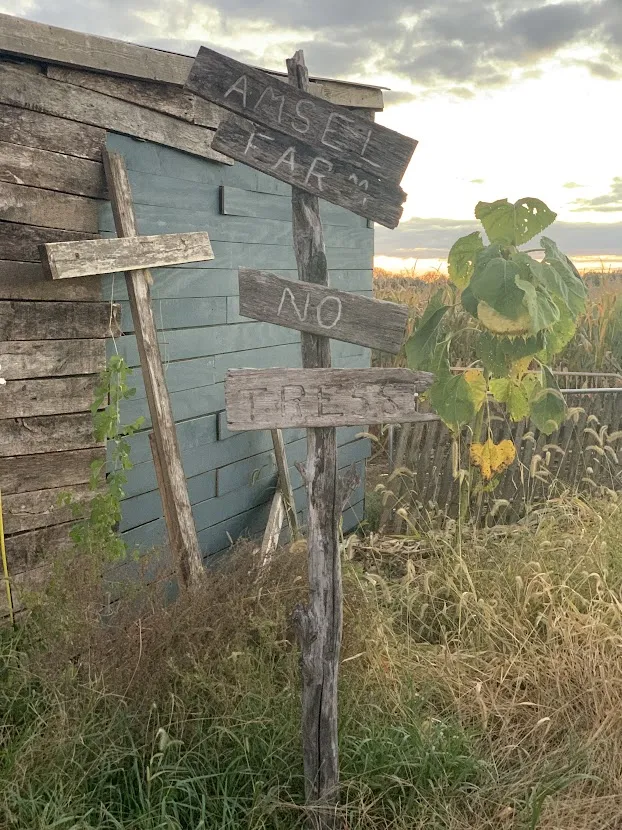 This year my teenager really enjoyed the haunted maze. We waited until dusk so that it was dark by the time we emerged and boy did we time it perfectly. It was super fun and just the right amount of scary for kids.
Insider tip: the line for the haunted maze gets really long, so get in line by 7:15 – 7:30 if you want to enjoy it in the dark.
Other favorite activities include the tubes of terror, the scarecrow contest, various carnival games, magic shows, storytelling, and more.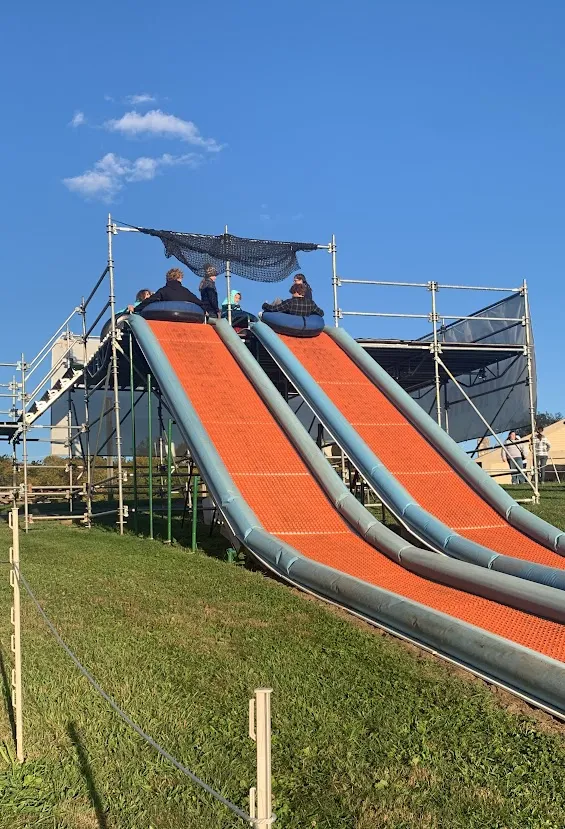 And of course, the food! With a nice variety of food trucks (BBQ, Java House Coffee, bagel sandwiches, donuts, kettle corn, and more) you won't go hungry. We indulged in the hot chocolate and also tried the special Sun King beer "Ichabrewed Crane" created especially for this festival. Yum!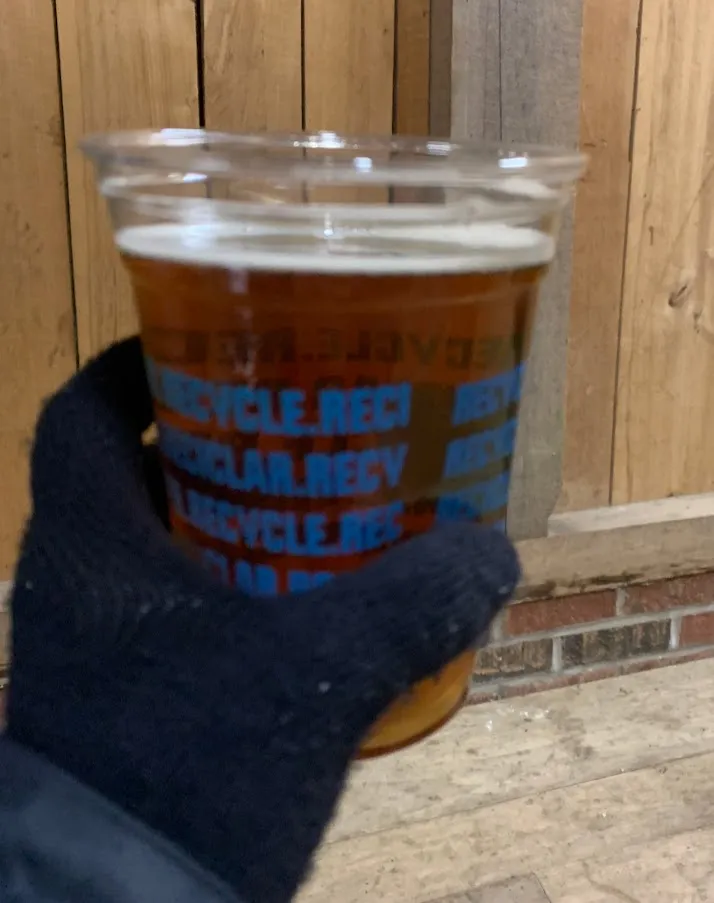 If you only do one fun fall activity in Hamilton County, I highly recommend this one! Make Conner Prairie's Headless Horseman one of your annual family traditions.
6. Other Fall Festivals
In addition to the Headless Horseman, there are many other fall festivals in Hamilton County. In fact, you'd be hard-pressed not to find at least one every weekend during the fall months.
A few favorites include the Carmel International Arts Festival, Potter's Bridge Fall Festival, and the AgriPark Fall Festival. Add in all the fall festivals in nearby Indianapolis and you could realistically visit one every weekend all fall!
Dates change a bit from year to year, so do a quick Google search "Fall Festivals in Hamilton County Indiana" to see what pops up for the current year.
7. Walk or Bike on the Monon Trail
The crowning jewel of central Indiana's rails-to-trails program, walking or biking on the Monon Trail is such a great way to spend a fall afternoon in Hamilton County.
Although you can take the trail all the way to downtown Indianapolis, the Hamilton County portion begins in Carmel at the 96th Street trailhead. From there, you can make your way through Carmel and Westfield all the way to Sheridan if you desire.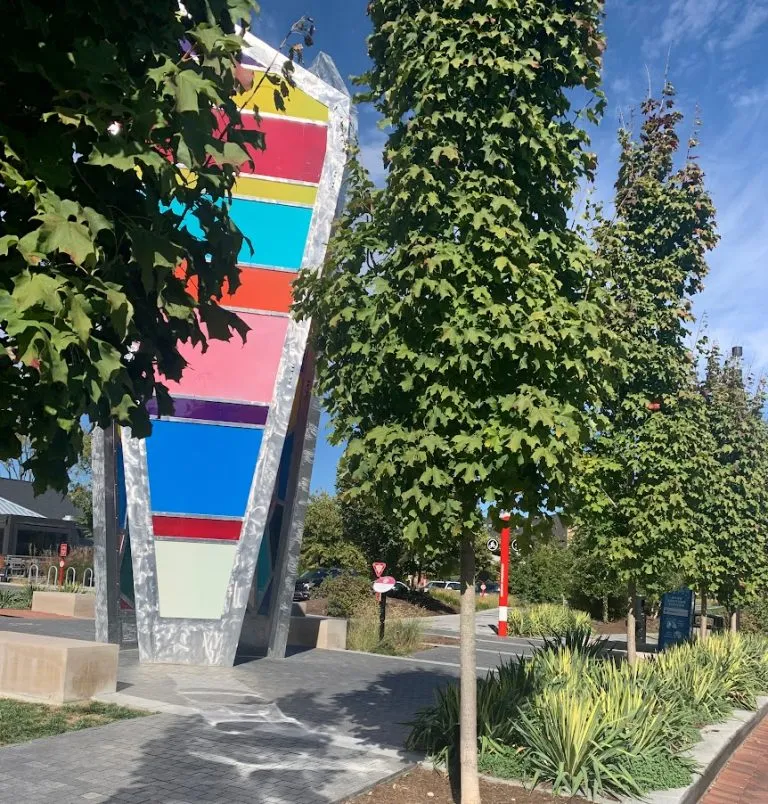 There are plenty of great places to stop for a break – especially in Carmel in the Midtown area. You could grab a beer at Sun King or a pizza at Bazbeaux, or just hop off the trail and explore downtown Carmel. Fun!
8. Strawtown Koteewi Park
Want to walk through the trees? Ride horseback through the woods? Try your hand at archery? All of these are fun things to do in the fall in Hamilton County at Strawtown Koteewi Park.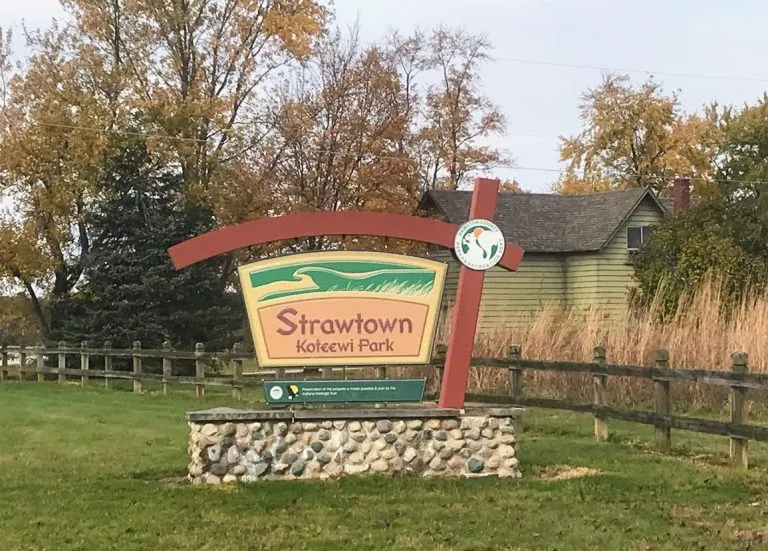 If you'd like to get away from the crowds and really feel like you are on a mini-day trip, head north to Strawtown Koteewi Park and spend a fall afternoon exploring. There aren't really any restaurants nearby, so you might want to pack a picnic, or if it's a cool morning, pick up hot coffee at Dark Side Coffee House in Cicero on your way.
I'm a huge fan of Koteewi for sunny fall afternoons – not only will you have a great time, it's also a wonderful spot for fall pictures! And, if you have your own kayaks, there is even a small lake for kayaking which is a great activity in the early fall!
9. Visit a winery
What could be better than sitting outside in the sunshine, listening to live music, and sipping on a delicious glass of wine? Not much, right? Luckily there are several Hamilton County Wineries where you can do just that this fall.
Spencer Farm Winery
Tucked away amongst soccer fields and lovely homes is Spencer Farm Winery. The winery is located in an old farmhouse with ample indoor and porch seating, but where it really shines is the outdoor lawn.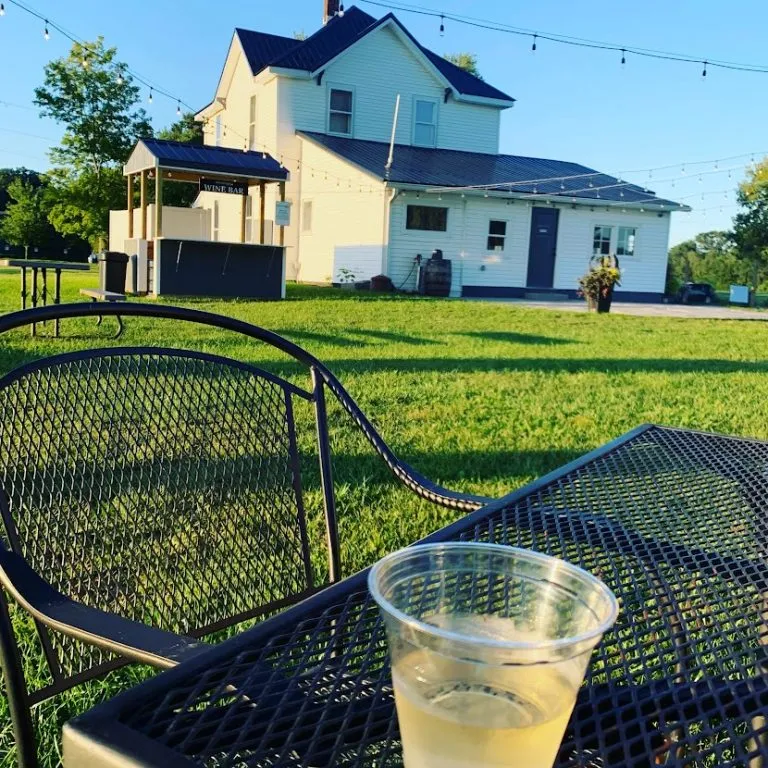 The expansive lawn allows for small or large groups to grab a glass of wine and a plate of charcuterie and enjoy a lazy fall afternoon. Most weekend evenings you can also enjoy live music so you can maintain that relaxed feeling all night!
Urban Vines
My favorite Hamilton County winery is definitely Urban Vines. They have a nice selection of wines with frequent changes (please bring back the Hopped up Chardonnay!) as well as their own beer, wine slushies, and sometimes even ciders!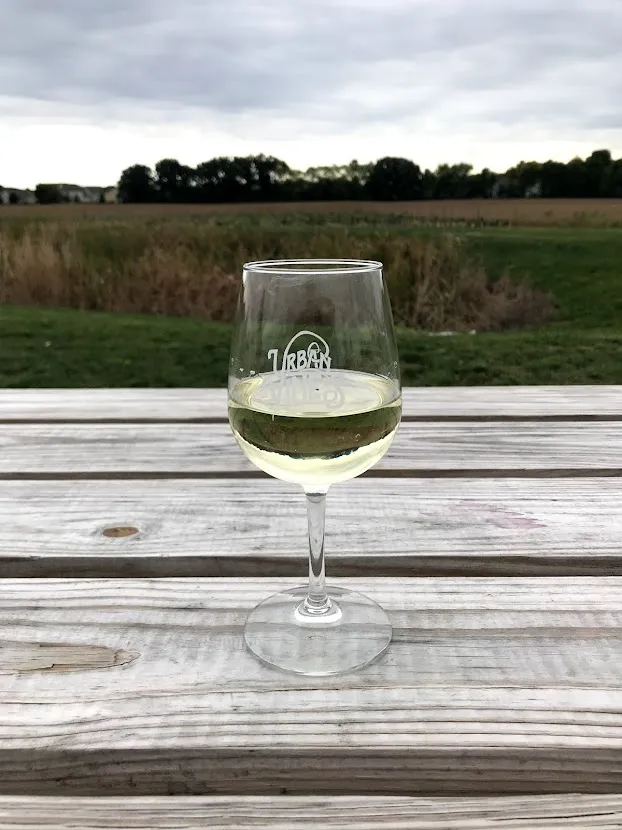 The atmosphere is casually chic and they host frequent fun trivia, bingo, and craft nights as well as live music every weekend. Start with a tasting and once you've found a wine you love, grab a glass and head out to the covered patio or the lawn. There's plenty of seating and it's always a lively atmosphere.
Kids are welcome and we've been known to grab sodas for them from home, bring games and move our game nights to the winery for a change of scenery!
Related post: Looking for more wineries in Hamilton County? Check out this post – Raise a Toast to Hamilton County Wineries
10. Midtown Plaza Carmel
It's the time of year when I want to eat every meal outside – or at least enjoy drinks outdoors in the afternoon or evening, and Midtown Plaza in Carmel is a perfect place to do just that!
As a fairly recent development in Carmel, if you haven't visited Midtown Plaza, then this fall is the time to check it out. Anchored by Sun King Spirits on one side and the hand-crafted style Fork and Ale on the other, it's easy to grab a drink or outdoor table and soak up the fun.
Every weekend there is something happening – from live music to outdoor movies. Plus, you can always relax in the fun and unique seating or play some outdoor games like ping pong or cornhole – whatever is currently set up outside.
11. Ghost Walks
Did you know you can join a ghost walk tour in Hamilton County? Well, you can, and fall is the best time to participate in this spooky adventure.
Unseenpress.com offers several ghost walk tours and investigations in Indiana and two of them are in Hamilton County! There is a Westfield Haunted Underground Railroad tour and a Nefarious Noblesville Ghost walk. Book one and join a group of folks eager to learn the fascinating ghostly history of several spots in Hamilton County Indiana.
12. Enjoy a fall-flavored beverage at a local coffee shop
Is it really fall before you've enjoyed a fall-flavored beverage like a pumpkin spice latte? I think not. And although there is a time and place for your neighborhood Starbucks, I love adding getting a fall-themed drink from a local coffee shop to my list of regular things to do in the fall in Hamilton County. After all, we have some amazing local coffee shops!
So grab something yummy before you head out to any of your other fall activities or just add a little fun to your day of running errands!
Related post: Although I need to update this (there are some other fantastic coffee shops in Hamilton County), this post should get you started: Best Local Coffee Shops North of Indy
13. Take a walk in the park
One of the easiest ways to enjoy the gorgeous fall weather and fall colors in Hamilton County Indiana is simply to take a walk in the park. The county has some really fantastic parks with lovely trails.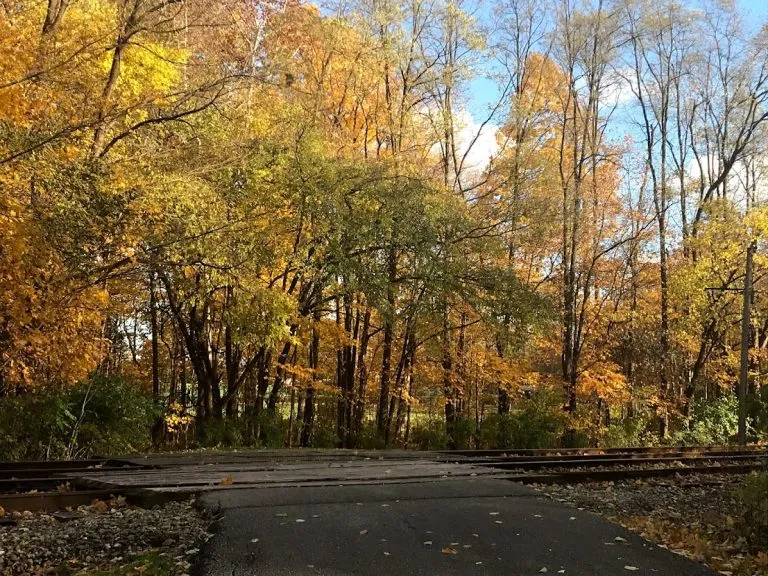 A few favorites include Forest Park, MacGregors Park on the edge of Westfield, Cox Hall Gardens in Carmel, and Flat Fork in Fishers. Pick a park and head out to enjoy a few hours outside!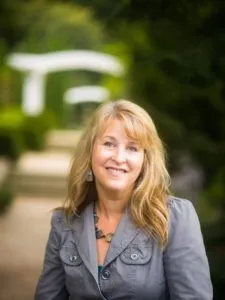 About the Author
Hi! I'm Pam Howard. I'm a busy mom of two teens who loves to travel and enjoy each and every day. My hope is to inspire other busy moms to create family memories and discover everyday adventures wherever they are! Check out my About me page for more details.